We undertook a trip around the Kingtom promontory on Saturday, December 6, to take a look at facilities that are of interest in the battle against Ebola. First stop was the Prince of Wales School, where President Ernest Koroma had that very day commissioned a new Ebola center on the school's expansive playing field. Many have found the decision to site an Ebola center on school premises curious. That the nation's top government secondary school could at this advanced stage of the fight be corralled into such service speaks volumes about the progress against Ebola and the likelihood of an early return to normalcy.

When we arrived at the field we found it transformed. Machines and workmen were busy applying finishing touches to a large, solid albeit tented, facility. MSF expatriates appeared to be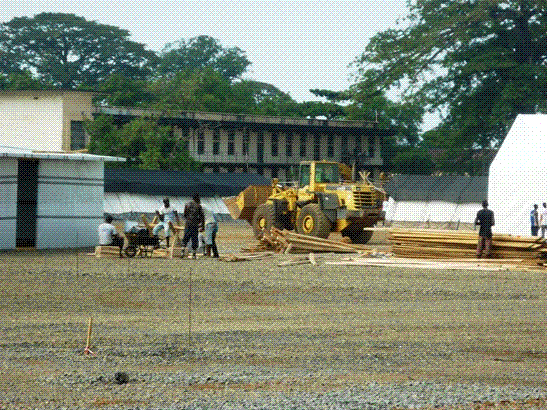 supervising the work (the facility will be managed by MSF) and a small crowd was gathered at the gate, apparently waiting for results of work applications. With the economy in decline and job openings few and far between, government promises of risk allowances to workers at Ebola facilities appear tempting enough to lure a good number of locals to brave the terrors of Ebola.
From the Prince of Wales we continued round the Kingtom outcrop to the Police hospital and found by contrast a scene of complete normalcy. There had been concern that densely populated barracks, police and military, with personnel whose work routinely involves distant postings, could be breeding grounds for Ebola. On this occasion we saw no evidence of it. The hospital was operating at a leisurely pace, with not an emergency or PPE in sight. All buildings appeared to be in use and freely accessible to the public.
Finally around the newly resurfaced Kingtom circle, past the War Graves and the secluded reservations bequeathed by the colonial era, to the public cemetery.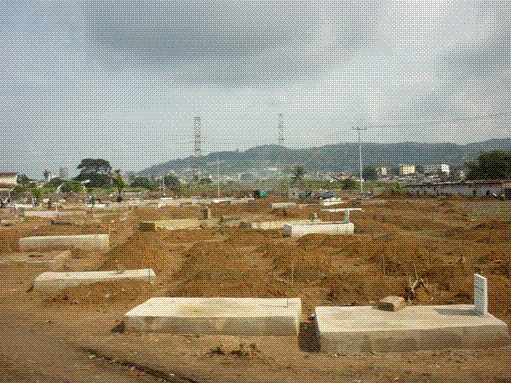 This was designated an Ebola burial place many weeks ago and, much to the discomfort of Kingtom residents, all suspected or confirmed Ebola corpses in the West of the city are taken there. Perhaps proximity was part of the rationale for choosing nearby Prince of Wales School as an Ebola center. We find rows and rows of freshly-dug earthen heaps, marked only by a slim, numbered stick. Workers dot the compound, enlarging the space for burials and preparing new graves. Outside, quiet groups of mourners await the blaring sirens of the next, hasty Ebola disposal.