May 10, 2014
SIERRA LEONE LAST IN MATERNAL MORTALITY
In its just released report on maternal mortality in 183 countries around the world (Trends in Maternal Mortality:1990 to 2013), the WHO places Sierra Leone at the bottom of its list for 2013. The organization estimates Sierra Leone had a 2013 Maternal Mortality Ratio of 1100. By contrast, Belarus in top position was estimated to have an MMR of just 1 in the same year. The MMR is the number of maternal deaths per 100,000 live births. Sierra Leone outdistanced by some margin the second-to-last country, Chad, which was estimated to have an MMR of 980. The MMR is a key indicator of maternal health and one of the targets of the Millenium Development Goals.
The numbers will come as a particular disappointment to political authorities in Sierra Leone , including President Ernest Bai Koroma, who have often cited improvements in health care delivery as one of the key accomplishments of the current, APC, government. The Free Health Care Initiative (FHCI) was introduced by the government in 2010, with support from donor partners including DFID and the WHO. FHCI was designed  to address the key MMR indicator, with the provision of free health care for infants and pregnant and lactating mothers all around the country. A sizable percentage of the government budget has been allocated to FHCI, whilst the major part of the funding for FHCI drugs and supplies has been provided by donor partners. There have been frequent reports in the press that FHCI drugs have been diverted by health workers for sale to patients. The tables below indicate relative funding for the FHCI in 2010 and 2011.
Table 1 PARTNER CONTRIBUTION TOWARDS FHCI. SOURCE MOHS/MOFED
| | | |
| --- | --- | --- |
| | 2010 | 2011 |
|  Partners | Amount(US$) | Amount(US$) |
|  GoSL | 9,091,954 | 58,006,650 |
|  DFID | 12,900,000 |   11,550,800 |
|  ADB | 1,500,000 | |
|  UNFPA | 1,377,403 | 352,004 |
|  UNICEF | 1,049,746 | 3,022,180 |
|  WORLD BANK | 1,497,698 | 3,946,250 |
|  GLOBAL FUND | 17,843,632 | 24,077,474 |
|  WHO | | 1,611,649 |
|  TOTAL FUNDING | 45,260,433 | 91,016,207 |
One source of comfort for the policy planners will be that although Sierra Leone is rated at the bottom of the list, the WHO also estimates that maternal mortality has improved by 54% in Sierra Leone from 1990 to 2013, and it describes the country as "making progress" in improving maternal health.
Table 2: Funding medicines and supplies, FHCI, source mohs/mofed
2010

2011

Partners

Amount(US$)

 %

Amount(US$)

 %

GoSL

     1,190,000.00

0.10

2,701,706

24%

DFID

     8,400,000.00

0.68

7,068,588

61%

ADB

     1,500,000.00

0.12

UNFPA

     1,300,000.00

0.10

15%

ECHO

1,743,493

TOTAL FUNDING

12,390.000.00

1.00

11,513,787.00

100%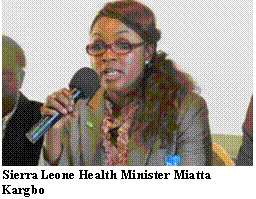 As news of the report spread the Ministry of Health and Sanitation went into crisis mode, with the Minister calling a press conference alongside donor partners, and the Chief Medical Officer  granting press interviews with various media outlets (read Ministry of Health press release). The Minister, Miatta Kargbo, described Sierra Leone 's results as not a true indication of the effectiveness of FHCI and noted that there had been considerable progress since the last figures were released in 2005.
The government's front line troops in the fight to combat maternal mortality around the country are its Maternal and Child Health (MCH) Aides. They enter the medical field at a lower level than regular nurses and are trained specifically for ante- and post-natal care (ANC, PNC). They are expected to man MCH Posts all around the country that provide basic ANC and PNC for the great majority of rural communities. They are trained to refer patients to higher-level institutions at the first sign of serious complication.
Reports from the MCH Aides indicate that all is not well in this sector. There has been a big push to recruit new entrants all around the country; the MCH centre at Cline Town in Freetown enrols over a hundred trainees in one batch and trainees are accepted in other institutions around the country. There are a large number of applicants for the limited number of trainee positions available. The programme is widely believed to be generously funded by donor partners quite separately from the FHCI, but the management of the programme is very much in the hands of officials from the Ministry of Health and Sanitation. Right from the start, new entrants are faced with requests from Ministry officials for payments of various charges, and the entrance examination is fraught with corruption.  After a two-year programme trainees graduate as MCH Aides, and the expectation is that they will be absorbed into the Ministry of Health and posted. However, the class of 2010, which graduated in 2012, is yet to be officially absorbed into government service or to start receiving salaries. Instead they were told to report for duty at health posts without pay until postings were made. After eighteen months of this they were reportedly asked by Ministry officials to write letters 'volunteering' their services to the Ministry. Meanwhile, the class of 2012 have now also finished their training and are eagerly anticipating their postings.
…download the report, Trends in Maternal Mortality: 1990-2013